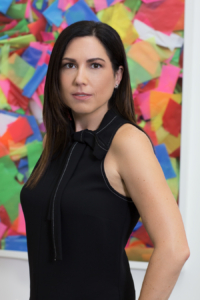 Since the mid-nineties, Megan Geckler has been consistently refining her process of making large-scale, site-specific artistic interventions within architectural examples. The point at which her artwork ends and the site begins is rendered nebulous, and investigates our inherent human desire to define and control the space around us. Building upon the phenomenological experiential qualities of James Turrell's works, and created with off-the-shelf materials similar to Tara Donovan's sculptures, with a nod to the mesmerizing Op-Art works of Bridget Riley, Geckler's work is similar in form to oversized versions of Naum Gabo's constructions, that transport the viewer into an otherworldly immersive environment, akin to Yayoi Kusama's mirror rooms. Ultimately, Geckler is defining a new territory that explores how we perceive space and materials that we may have encountered millions of times before, she is recontextualizing our optical order, and precision reigns supreme.
Geckler experiments with off-the-shelf construction items, essentially lifting them out of an easily recognizable context. She repositions these humble materials within sprawling artworks that allow them to transcend their primary and utilitarian functions. In 1999 Geckler discovered flagging tape, a mass-produced material used to temporarily demarcate construction zones, primarily used by men. Flagging tape has become Geckler's signature material, the versatility and translucency of the plastic ribbon lends itself to being layered and woven, allowing her to expand upon the rather limited palette of fourteen colors. As a student and teacher of color theory, these color restrictions became welcome challenges for Geckler as she mastered blending tertiary hues and manipulating optical orders that result in unlikely color combinations that service her large-scale line drawings in space, creating moments of extreme depth and punctuated saturation.
In 2012 Geckler began working with hand-dyed ropes and cords, polished and coated metals, printed glass, sublimated dye on aluminum, and other durable permanent media. Her hyper-colorful installations are equal parts whimsy and master craftsmanship, evident in her exacting process of manipulating space.
Rather than merely attaching hardware to a surface and connecting her works to an intermediate structure, Geckler's works are inexorably attached to the site itself, and challenges the very nature of site-specificity as a genre. By utilizing CAD and three-dimensional modeling programs, she is able to design her work "in the round", albeit in a digital realm, enhancing viewer experience and appreciation of the nuances of both man-made and natural environments. Her extremely rigorous process assures that the resulting works exemplify her hyper-focused mathematical approach, and serve as literal and visual connections between architectural, mathematical, design, and fine art practices. Geckler is our modern-day flaneur, flirting with our preconceived definitions of how art may function as experience. She broadens our relationship with space, math, and physics by inviting us to explore her immersive artworks and engage within a "community of looking", to essentially transport viewers to an alternate dimension of highly-orchestrated spectacle.
Megan Geckler is an American artist (b. 1975, Abington, PA) living and working in Los Angeles, California. She received her BFA from Temple University's Tyler School of Art (Elkins Park, PA) in 1998 and her MFA from Claremont Graduate University (Claremont, CA) in 2001. Her large-scale, site-specific installations and drawings have been exhibited internationally at Customs House (Sydney, NSW, Australia); and The Courtauld Institute (London, United Kingdom). In America, she has mounted large-scale, site-specific installations at venues such as the Utah Museum of Contemporary Art (Salt Lake City, UT); Wexner Center for the Arts (Columbus, OH); Museum of Art and History (Lancaster, CA); Laguna Art Museum (Laguna Beach, CA), Vincent Price Museum of Art (Monterey Park, CA), Torrance Art Museum (Torrance, CA), and Pasadena Museum of California Art (Pasadena, CA). Geckler has been awarded multiple public art commissions including projects at the LAX Airport, and was awarded the City of Los Angeles (C.O.L.A.) Individual Artist Fellowship by the Department of Cultural Affairs in 2016. Her work is in the corporate collections of Creative Artists Agency (Los Angeles, CA); Four Seasons Resort at Walt Disney World (Orlando, FL); Nike (Portland, OR), Human Rights Campaign (Washington, DC), eBay (San Jose, CA), SoulCycle (Hoboken, NJ), and Facebook (Northridge, CA). Her artworks have been profiled by ArtForum, "O" The Oprah Magazine, The Washington Post, Interior Design Magazine, Colossal, The Sydney Morning Herald, Fabrik, LA Weekly, The Creators Project, Designboom, Artillery, Elle Decor Italia, Los Angeles Times, The Getty Research Institute Newsletter, The Associated Press, Art Ltd., Huffington Post, Artweek LA, ArchDaily, ArtUS, ArtDaily, The Columbus Dispatch, Artscene, Design Milk, Flavorpill, and Glasstire, among many others.
Education

1999-2001 Master of Fine Arts, Sculpture – Claremont Graduate University, Claremont, CA
1994-1998 Bachelor of Fine Arts – Tyler School of Art, Philadelphia, PA
1997 Glasgow School of Art – Summer Abroad Program, Glasgow, Scotland
1993-1994 Pre-Med Program – University of Vermont, Burlington, VT

Solo Exhibitions / Projects
2020
"Rainbow on my mind, laminated in the sky", Q at Variel, Woodland Hills, CA
2019
"Secrets from strangers", Underground Art Series, Wells Fargo Center, Los Angeles, CA
"Megan Geckler x Mira Mikati", Paris Fashion Week, Paris, France
2018
"Behind the bending mirror", Facebook Connectivity Lab, Northridge, CA
"Believing is art", Art+Design, Austin Peay State University, Clarksville, TN
"I remember always", Laguna Art Museum, Laguna Beach, CA
2017
"Believe in things you say", Sturt Haaga Gallery, Descanso Gardens, LaCañada Flintridge, CA
"49", Human Rights Campaign, Washington, DC
"United we stand", Human Rights Campaign, Washington, DC
"Music makes motion, moves like a maze", Human Rights Campaign, Washington, DC
2016
"A million things that make your head spin", Customs House, Sydney, NSW, Australia
"We've got to cross this great big world somehow", LAX Airport, Los Angeles, CA
2015
"Let's forget has torn me apart"; Flintridge Preparatory School, Flintridge LaCañada, CA
2013
"Rewritten on machine by new technology"; Museum of Art and History (MOAH), Lancaster, CA
"No chance to look backwards and see"; Utah Museum of Contemporary Art (UMOCA), Salt Lake City, UT
2012
"People en Español", Henry B. Gonzalez Convention Center, San Antonio, TX
"Flag Tag, TEDActive", Palm Springs, CA
2011
"A fraction of the sum"; AC Projects, Pomona, CA
"Lay it down and start up"; Creative Artists Agency (CAA), Los Angeles, CA
"Seeing thoughts in repeat"; Space 15Twenty, Los Angeles, CA
"There's lights and sounds and stories, music's just a part"; PØST, Los Angeles, CA
2010
"Spread the ashes of the colors"; Wexner Center for the Arts, Columbus, OH
"Every move you make, every step you take"; Pasadena Museum of California Art, Pasadena, CA
"Twisted under, sideways down"; LAX Airport / DCA Public Art Program, Los Angeles, CA
2009
"Straddle the line, in discord and rhyme"; Women & Their Work, Austin, TX
2008
"When all of the water is gone, the feeling lingers on"; Lather, Old Town Pasadena, CA
"Here in my car where the image breaks down"; Lendrum Fine Art, Hollywood, CA
"And when it's over, set aside a moment to forget"; Arts Council for Long Beach, Mobile Exhibits, Long Beach, CA
"Set a course for wayward schemes"; Bert Green Fine Art, Project Windows 5th and Main Streets, Los Angeles, CA
2007
"Where the lights unravel", Vincent Price Museum of Art, East LA College, Monterey Park, CA
2006
"Fill it up and pour it down the inside", Torrance Art Museum, Torrance, CA
2003
"Web in front", University of LaVerne, LaVerne, CA
"Megan Geckler and Paul Yanko"; superior (an exhibition space), Cleveland, OH
2001
"Automatic"; Miller-Durazo, Los Angeles, CA
"Perspective"; East Gallery, Claremont, CA
2000
"I want specifics on the general idea"; East Gallery, Claremont, CA
"Multiphrenia"; Dillingham-Caples Gallery, Claremont, CA
1998
"Smoothed in and spaced out"; Tyler Hall, Tyler School of Art, Elkins Park, PA

Selected Group Exhibitions

2019
"Synthesis: Abstraction in Los Angeles", Peggy Phelps Gallery, Claremont Graduate University, Claremont, CA
"Zeitgeist Architectonia at the Event Horizon", McNish Gallery, Oxnard, CA
"WeRise", Los Angeles, CA
2017
"Marking Time", Sturt Haaga Gallery, Descanso Gardens, LaCañada Flintridge, CA
2016
"Office Hours", Beta Main Museum, Los Angeles, CA
"City of Los Angeles (C.O.L.A.) 2015-2016 Individual Artists Fellowship Exhibition", Los Angeles Municipal Art Gallery, Los Angeles, CA
"Reunion", ANDLAB, Los Angeles, CA
"Newtown to Albers: Color Theory to Creative Practice", Cypress College Art Gallery, Cypress, CA
"Artificial Realities", East Wing Biennial, Courtauld Institute, London, UK
2015
"Going Big", Central Booking, New York, NY
2014
"Erection"; MAMA Gallery, Los Angeles, CA
"Packed and Jammed"; Glendale Community College, Glendale, CA
2012
"Artrageous"; Palm Springs Art Museum, Palm Springs, CA
2011
"Top 10 Now: Where Contemporary Art in L.A. is Headed"; Avant-L.A., Los Angeles, CA
"Playtime"; See Line Gallery, Pacific Design Center, West Hollywood, CA
2010
"Megan Geckler is a gem"; 7 Artists 7 Rings, The Huffington Post (online)
"Megan Geckler and Carrie Ungerman"; The Windward School, Culver City, CA
2009
"Megan Geckler" – Visual Artists Salon at the National Performance Network (NPN) and Visual Artist Network (VAN)
Annual Meeting; Knoxville, TN
2007
"Staying Alive"; Winslow Garage, Los Angeles, CA
"FR8"; Art on the Waterfront, Commissioned by the City of San Pedro and the
Angels Gate Cultural Center, San Pedro, CA
2006
"From America"; Museum of Modern Art (MOMA), Minsk, Belarus, Russia
2005
"Tarfest"; Craft and Folk Art Museum, Los Angeles, CA
2003
"9th Annual Holiday Show "; Ruth Bachofner Gallery, Santa Monica, CA
"Tinseltown"; domestic setting, Los Angeles, CA
"The more you know, the less you need"; Ruth Bachofner Gallery, Santa Monica, CA
"Gridlock"; West Los Angeles College, Los Angeles, CA
"Merge"; ANDLAB, Los Angeles, CA
"Sequel"; Domestic Setting, Los Angeles, CA
2002
"Valedictories"; Raid Projects, Los Angeles, CA
2001
"Big Plastic"; Armory Center for the Arts, Pasadena, CA
2001
"MacGyver"; Crazy Space, Santa Monica, CA
"Ten by Ten"; Miller-Durazo, Los Angeles, CA
2000
"Seizure"; Artplace, Los Angeles, CA
"Southern California Open 2000"; Gallery 825, Los Angeles, CA
"Affinity"; Coagula Art Projects, Los Angeles, CA
"Inland Specific, Installation Artists Living in the San Gabriel Valley"; Pomona College Museum of Art, Pomona
College, Claremont, CA
"Wall Space"; Miller-Durazo, Los Angeles, CA
"Mixed Media 2000"; Period Gallery, Omaha, NE

Grants / Awards / Residencies
2018
Facebook, Artist in Residence, Northridge, CA
Austin-Peay State University, Artist in Residence, Clarksville, TN
2017
CODA Merit Award, CODAworx, Madison, WI
2016
Maryland Metro Red Line, Silver Spring Station, Finalist
2015-2016
City of Los Angeles (C.O.L.A.) Individual Artist Fellowship, Department of Cultural Affairs
2015 
Santa Monica Fire Station #1 Public Art Project, Finalist
San Antonio Pedestrian Bridge Public Art Project, Finalist
Denver Regional Transportation District, Arvada Ridge Station, Finalist
Los Angeles County Metro Blue Line, Crenshaw / LAX Corridor Glass Pavilion Artwork, Finalist
2014
Maryland Metro Red Line, Baltimore Inner Harbor Station, Finalist
2013  
Ningbo Port Park, China, Finalist
The Platform, Culver City, CA, Finalist
Utah Museum of Contemporary Art (UMOCA), Artist in Residence, Salt Lake City, UT
2009
Visual Artists Network Artist in Residence at Women & Their Work, Austin, TX
2007
Durfee Artists' Resource Completion (ARC) Grant in conjunction with "Set a course for wayward schemes"

Fundraisers / Benefits
2016
"PØST Benefit Auction", PØST Gallery, Los Angeles, CA

2014
"Art of Elysium"; MAMA Gallery, Los Angeles, CA
2012
"10×10"; Pasadena Museum of California Art, Pasadena, CA
"Artrageous"; Palm Springs Art Museum, Palm Springs, CA
2004-2015
"Incognito"; Santa Monica Museum of Art, Santa Monica, CA
2007
"HAUSguests – A Benefit for the Region of Darfur"; Brewery Project Space, Los Angeles, CA

Corporate Collections

Creative Artists Agency (CAA), Los Angeles, CA
eBay, San Jose, CA
Facebook, Northridge, CA
Four Seasons Resort at Walt Disney World, Orlando, FL
Human Rights Campaign, Washington, DC
Nike, Portland, OR
SoulCycle, Hoboken, NJ
International private collections

Lectures / Panel Discussions

2018
Claremont Graduate University – Guest Artist Lecturer
Austin Peay State University – Guest Artist Lecturer
2016
The Courtauld Institute – (Un)Real Panel Discussion
Wimbledon College of Arts – Guest Artist Lecturer
2015
Silicon Beach Fest – "Design Across Mediums" Artist Talk with Kluge Interactive
2014
Santa Barbara City College – Guest Artist Lecturer
2013
California State University San Bernadino – Guest Artist Lecturer, Graduate Studio Visits
2012
Utah Museum of Contemporary Art – Q&A with exhibition curator, Micol Hebron
2011-2014
Art Center College of Design – Guest Artist Lecturer
2010
Pasadena Museum of California Art – in conjunction with solo exhibition "Every move you make, every step you take"
Wexner Center for the Arts – conversation with Kaleidoscope Youth Center in conjunction with solo exhibition "Spread the ashes of the colors"
2009
Women and Their Work – in conjunction with solo exhibition "Straddle the line in discord and rhyme"
2007
Santa Ana College – Art Forum Lecture Series
2003
Santa Monica Museum of Art – Emerging Artists Education Program for Children
University of LaVerne – in conjunction with solo exhibition "Web in front"
Chaffey College – Materials and Meaning Panel Discussion
2001
The Armory Center for the Arts – Artists' talk in conjunction with "Big Plastic"
2000
Pitzer College – Environmental Installation Guest Lecturer

Teaching Experience (*Denotes full-time employment)

2011-2004
Design 1, Glendale College
2010-2001
Two Dimensional Design, Cerritos College, Norwalk, CA
2010-2002
Beginning Drawing, Fullerton College
2008
Basic Design, Fullerton College
Design 2, Glendale College
2008-2007
Basic Drawing, Glendale College / Hoover High Outreach Program, Glendale, CA
2007-2006
Fundamentals of Sculpture, Fullerton College, Fullerton, CA
2006-2004
Drawing for Non-Art Majors, Fullerton College
2006*
Interim Full-time Professor of Sculpture, Fullerton College
2005
Two-Dimensional Design, Fullerton College
Design and Color Theory, Fashion Institute of Design and Merchandising (FIDM), LA
2004-2003
Two-Dimensional Design, Chaffey College, Rancho Cucamonga, CA
2004
Color Theory, FIDM, Los Angeles
2003
Elements of Design, FIDM
Beginning Drawing, Chaffey College
Fundamentals of Art (Art History and Appreciation), Cypress College, Cypress, CA
2002
Two Dimensional Design, Fullerton College
Beginning Drawing, Citrus College, Glendora, CA
2001
Three Dimensional Design, Citrus College
2000
Alternate Materials and Practices – Graduate Seminar, Claremont Graduate University
1998
Sculpture Counselor for At-Risk Youths, Philadelphia Parks and Recreation Department, Philadelphia, PA
Publications
Please click here for a full list of press
SaveSave
SaveSave
SaveSave